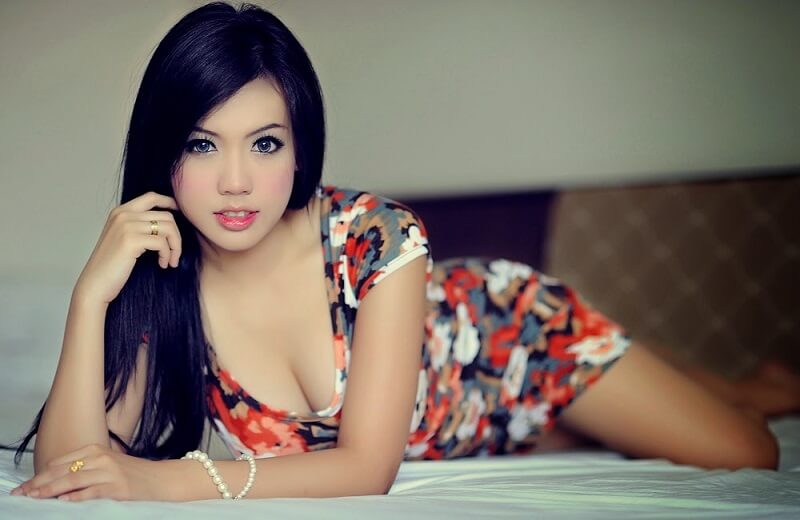 Asian Sex Story: I feel so awful. My stomach hurts and a feel as if I want to throw up. I am truly love sick. I guess this is the worst thing that could ever have happened to me. I kept writing about being in love with a lovely Asian girl who cuckolds me and now it has happened. God has punished me for my wicked thoughts and sins.
I found my true love in a bar in Thailand. She is a bargirl because that is her job and how she makes money. This bronze skinned Asian doll of mine may be a Thai slut whore prostitute but I love her very much. Well this is the worst case scenario for sure: I'm in love with a fucking whore who lives half the way around the world and worse she really loves me.
The fact that my fiancée is unable to count the number of men she had been with and I know what she does for a living does not really matter. The fact of the matter is, I am in love with a bar girl and still living apart while she is still sleeping with customers, perhaps she even has other men sending her money. In spite of this I love and cherish her so much. She is my princess but when it comes to men and sex she is just a whore to those guys with their cocks.
I was on my way back from eating at the English pub called Jools in Sukumvit when Eim approached me from her beer bar. The whole street was just bar after bar, each with a good number of girls inside trying to drag every tourist that walked past into the bar. Little Eim was hanging around near the entrance of her bar and she hooked onto me as
I walked passed. I smiled at her as she approached me. I was getting hard just watching this cute brown skinned hottie walk like a little fucking slut. Eim is a very good looking red haired. She is a tanned and has a slender and sexy body. She is 26 years old and is 5'0 with nice features and a very petite body and very slim and small pointed breasts. She has a birth mark below her right bottom cheek and an amazing smile that would make any guy my age just melt.
After all I am 49, a bit overweight and even though I am already married to a young Filipina wife I have to admit I like tight Asian pussy. I was immediately attracted to her sweet looking red-painted lips and her short red straight hair. She didn't speak much English but enough for us to have a little chat and she asked me if I'd like to go inside the bar and buy her a drink so we did. I was already imagining her getting boned in the ass and I knew I would not be able to resist the urge to take this little whore put my big hard cock in her juicy anal hole.
Like most bargirls she comes from the Khon Kaen in Isaan, the northeastern part of Thailand, a poor rural area where agriculture is the main source of income. Many girls come to Bangkok in hope to find a better paid job and quickly find that working in a red-light district is easy and more or less well paid, without any education needed. I couldn't keep my eyes off her tight body, her shape was just perfect and the little outfit clung to her every curve.
Eim had been working in bars since she was 20. Her father abandoned her and then her mother died leaving her to sort her own life out at fourteen. She has little education and learned English by reading the bible and watching English programmes on TV. She told me she wanted to stop working in a bar and find someone to marry. She did not seem to have any real idea how to sort her life out or how to save for a home and a small business.
She seemed cheerful and easy to laugh but I could sense and great sadness and loneliness there. I knew she worked as a hostess in a beer bar and I knew that she could be bought from a bar for a night or more by paying a bar fine (500 baht) to the bar. She made money from having sex with clients (2,000 baht) and getting them to buy her lady drinks.
She asked me if I liked her and she smiled when I said yes. All I could think about was fucking her, everything about her body and shape, the way she walked so gently but also so sexy had me going crazy. She touched my cock through my pants and asked me if I wanted to take her home. I wanted to fuck her till she passes out so I said yes and we kissed. When we kissed she sent part of her tongue into my mouth pushed her crotch playfully into my cock.
When we got back to my room she opened her legs and invited me to fondle her full bushed Asian pussy. We made love three times, unprotected which was crazy but she was all over me. She was very passionate and intense in her love making. We kissed again open mouthed tasting each other. As I pressed and felt the contours of her small but charming breasts, she unzipped the front of my trousers and found the length of my erection and firmly took hold of it. Holding my naked penis, she lowered her head over my lap and began to tease me with her tongue. Taking my length between those sweet lips, she sucked me hard like a pro, her free hand toying with my balls.
I absently ran my fingers through her red silken hair and pushed my hips forward, watching her lick and stroke the length of my cock. She occasionally glanced up at me as she worked, but for the most part, she remained entirely concentrated on my stiff member, sucking it like mad. Her hand rhythmically squeezed the base of my cock, encouraging the flow of pre-cum once I'd gotten to that point of ecstatic arousal. She kept her lips sealed around my jerking organ until I felt that I was nearing of my climax. She released my moist and rock hard cock and looked up at me with that coy provocative smile. By that time, I just wanted to fuck her horny cunt.
Eim knelt down on the bed, with her head down on the pillow and stuck her ass up in the air. Her fingers are stretched out wide in pleasure as my cock went in and out of her. Her eyes were shut and her mouth open in pleasure as I slowly fucked her from the rear. Her mouth opened wide then she bit her lip and winced with pleasure. Reaching beneath her she placed a hand between her legs and began to rub her pussy as I thrust firmly between her thighs. I looked at her face, flushed with pleasure, opening her mouth to gasp, then quickly biting her lip so as not to cry out.
After a while we switched and she straight climbed on top of me and straddled me and rode my cock like a cow girl. She held my cock and slipped it in her wet hole with a groan as if she had been anticipating sex for weeks. She began to grind against me. My cock felt like it was in honey heaven, her pussy was so well lubricated. Her pussy muscles were contracting with each forward movement of her hips, making me involuntarily squirm underneath her.
As she rode me it was obvious she was enjoying taking my unsheathed cock into her dirty pussy. Her mouth was open with pleasure as she slowly and firmly slid up and down my cock. She would look at me and bite her lips as she took her enjoyment. She ran one hand up and down her body, squeezing her breasts then sending her middle finger to rub her clit as she gasped with bliss as she rode my cock.
When she opened her eyes now, they were glazed with lewd pleasure and her mouth remained open as she let out a series of little gasps. As she fucked me like crazy she licked and bit her upper lip, staring me in the eyes. I grabbed her breasts and began to move harder and faster. She had trained her tight little Asian pussy into a real muscle. She groaned with passion as we made love and I knew she was really enjoying the sex
After about twenty minutes of her riding me and orgasm after orgasm, her body and pussy convulsing as she came, she finally collapsed as I spurt my every last drop of cum deep into her cute little body. She may be small but her pussy is not too tight as it has already been stretched by countless cocks fucking her.
After we had made love something happened to the two of us and fight it as we may, we both found ourselves falling madly in love with each other. We seemed to have some kind of connection. We tried to shake it off, stop it happening but to our joint horror and fear and confusion we found ourselves chained together by love.
She told me she wanted to go with me and she asked me if we could have a child together. I was totally honest about my situation and said anyway I was here for her whenever I could. She tried to break it off then changed her mind after staying awake all night. I know she had had another boyfriend and it had not worked out and she was afraid to commit.
Eim liked to wake up late, watch sports on TV and eat tasty spicy noodles or go out to the bar and drink and shoot pool. She did not seem to have any other interests except good sex and spending my money on shopping. I found that she was actually quite lazy and she did not like to do any housework, cook or clean up. I just cannot understand how I could love her, but I do. It is irresistible, like a spell. I am totally besotted by the girl.
Sex was great: I love to grab her small firm round ass with my fingers and pull her sex-hungry body close to me as my hard dick slides in her warm pussy. I like to feel it squeezing my cock as I push deeper inside of her wet hole. She comes like crazy on my cock every time. We also get along very well together without too many arguments. I like Thai food and fucking her slutty pussy and she knew how to care for me. Trust was a big part of our relationship. She is very nice, very sweet and a truly fun loving creature but I knew that she spread their legs in order to make money. She was a prostitute and I was not blind to that.
Eim was a bargirl but she told me that she had fallen in love with me and she was determined to try and turn a new leaf; just not yet…. She did not want to take me to see her apartment which she shared for £60 a month with her friend, sleeping on the floor and in a total mess. She told me she was ashamed. I did not insist. I also found it strange how she was shy in the bathroom. By the end we were taking a bath together. She wanted to get her teeth straightened for me but I told her I liked her as she was with all her imperfections.
She told me with a little smile that she would like to get a tattoo. Actually thinking about it, I knew that it was very common for Asian street whores to have tattoos. I was surprised that she did not have one already as she had been fucking men in the bar for over seven years now. At first I did not want her to get one but after I have thought about it I have now changed my mind. After all it went with the job and I want her to fit in and be like the other girls. Her customers would expect it and this would make her more desirable and fuckable to them.
The tattoo would make her even more popular and she would be fucked more and make for more money and also when I fucked her after I would always see her whore branding forever.
Eim has a small girl and her aunt was raising the child in the northern province in Khon Kaen. After her parents died she had tried working in a factory but the work was very hard physically and the pay poor. Her family had made her come to Bangkok to work and earn money and support he daughter. She had started working in a beer bar sending all the money she earned to her aunt. Eim was shameless in her desire to take off her clothes and do
anything to earn money and had not needed much prompting by the family. She admitted to me that with hindsight she should never have listened to them. When she was not working she would hang out and shoot pool with another girl at the old bar where she worked. She told me that she had worked for seven years in a bar now. How can I be mad at her for wanting to suck and fuck a big strong cock for money as long as she loves only me? After all her body was built for sex and Thai girls find it natural to welcome a cock in their lovely pussy. That is what she has been trained to do.
Like any working girl in any job, she views her work dispassionately. It is something she does to make money. It makes no difference to her how many men she has to sleep with to make the money. She did not find her work degrading but compared it to mine. Having sex with men is just a job for bar girls. She enjoys her work and that all she knows how to do. When she needs money my sinful girlfriend gets pleasure from drinking and fucking men that she picks up in the bar. She really enjoys the bar lifestyle. She has no problem with submitting herself to the lust of strange men and getting her pussy fucked and abused in exchange for money.
When I was working Eim visited the hairdresser to straighten her hair and cut it as well as paint her nails. When we were together again afterwards she seemed to be yearning for the bar. She wanted to go there in the evening to shoot pool with her friends, watch sports and drink beer. She enjoys working in a beer bar. She has many friends there and she likes to drink meet foreigners, party and enjoy herself. Eim was surprised that I did not like the bars but told me that she was glad. She said I was a good man. She seemed quite restless and still insisted that we go to the bar where her girlfriend worked. I reluctantly agreed.
Eim put on her bright red lipstick and make-up, slipped into her tight mini jeans hot pants and dirty halter top stinking of the bar. The way she was dressed in barely concealed her modesty was, quite frankly, how you would expect a hooker to dress. I told her I thought she looked like a hooker out on the prowl at her bar, looking for easy prey to seduce, fuck and take their money. She smiled and her eyes sparkled with mischief.
There is a real attraction to a sexy woman that can be so loving and look so beautiful yet dress and act like a slutty cum drenched whore. Her top was haltered around her neck showing her cleavage. Her tits and nipples pushed out against the thin fabric as the dress as she did not wear a bra. Eim lusted for the bar life and the dirty hard paid sex with strangers. She wanted it all, me and her old life, both at the same time.
I was nervous about her being seen by the hotel staff but then thought they were used to it anyway. Eim wanted to go to a bar district. I hesitated but then agreed. The thought of sex starved men eyeing up my hot bargirl made me hard and made me want to flaunt her even more, strangely enough. When we approached the bar district, the guys gave her that look when we passed the bars and she started to naturally move more provocatively, swinging her little Asian ass.
We reached the bar where her friend worked and I sat down to have a beer while she played pool. Eim blended right in with her bargirl friends. They were all very sexily dressed in short shorts or micro skirts and halter tops. After each go, she would come over and kiss me when her friend had her shot.
I saw some of saw men sniggering and giving my girlfriend lewd second looks whenever she passed them. Their dirty looks and thoughts made me horny. It had never been hard for my girl to pick up a willing and able stud ready to pay for fucking her hot body. After all she is sexy, she knows how to pick up a man at the bar and she has done so countless times. She would prefer to go with someone good looking as her first choice but if she needs the money and the sex bad it didn't really matter who it was she went with; young old, handsome, ugly, white black, Thai… as long as she could get fucked and paid.
As I drank my beer at the bar until after they had played three games we went back to the hotel.
Waiting to return to Bangkok: September 2010
It drives me mad being here without her. I can feel a heavy ball in my stomach. I feel sick. The miracle is she feels the same way about me and we are texting and calling each other all the time.
Some people would think of my Eim as a trophy wife because of our age difference. They may even call her a fucking cheating lovely filthy whore. I know that Eim is still working in the bar and this drives me mad. But at the same time I love the thought of her acting in this lewd way and salaciously way. I envy her sexual freedom and how she is leading a life totally focused around hardcore sex. If I were a woman that is the life I would chose. My beloved Thai girl is both a good and bad girl at the same time; extreme good and evil combined. The line has become a bit blurred.
She is an incredibly beautiful girl, a true Thai angel. Also Eim is smiling and very loving as well as highly skilled sexually. She truly enjoys lovemaking and always comes in a tremendous orgasm whenever we make love. I have never experienced such a thing. When she is working and not with me she wears a lot of makeup with heavy eyeliner or eye shadow. Thanks to her bargirl training she isn't shy about kissing, holding hands or touching in public and generally shows affection in public to me. She accepted that her lifestyle of having fun, drinking, and gambling would need to change. I am so pleased that meeting me helped her learn from her own mistakes before she loses everything maybe even her life.
She is totally devoted to me in her heart – loving me exclusively – and she loves me and misses me like crazy. Although she is often short of money, she never talks about money or asks me to send her money. In fact she offered to send me money now I have now work. I feel humiliated. Of course I refused. I'm no pimp. She wants to build her future around me, be my wife, live with me. She wants to have my children. She shares all the ideals, feelings and aspirations that I have.
Eim truly adores me and the feeling of adulation is mutual. It was true love from the start and she does make me so happy, angry, sad and horny at the same. I love my Eim so much. We are crazy for each other and text each other all the time. When I hear her happy voice at the end of the phone telling me how much she loves me and misses me my heart and doubts melt away. Then in her sweet voice she tells me how she wants to live with me. Eim tells me that she will buy a little shop so she can a more morale life but she needs to work hard at the bar first to get the money. She tells me that she wants to be with me night and day.
On the other hand my fiancée fully embodies all the worst morale defects I can think of – she is a lazy whore who likes watching sport on TV, drinking and men. Yes, I have to admit it: She is a whore and a bar fly and I am not sure that even if I can take her out of the bar that I will be able to take the bar out of her.
I used to fantasize about falling in love with a Thai whore who would cuckold me with other men. Little did I ever think it would really happen to me. I guess this is the right punishment for me. The whole horrible situations brings tremendous pain and pleasure, leaving me angry and jealous but with a massive hard on for my sweetheart.
My Eim is both good and evil. She thinks nothing of seducing a stranger and fucking a different man each night like a prostitute for cash. As Thai women are brought up to enjoy sex, naturally Eim enjoys fucking other men for money. Even though she loves me madly and that she genuinely wants to be with me, my girlfriend is a whore through and through.
My girl is having sex with a lot of her customers. By her own admission she has fucked and sucked several many hundreds of men but you couldn't tell it by looking at her. Her pussy was still fairly tight. My girlfriend sure has what it takes to get strangers hard. All the fucking had some real effect on her morally rather than physically.
After a girl has become used to life as a bargirl she is changed forever. I had been told by a friend that to be successful in turning a bargirl into a girlfriend it had done when they were new to prostitution. After a girl has been with the first few men things would have changed for her. She would have got into the swing of it and found the right attitude toward having sex with a customer, helped by the other girls. After a while she would have found herself easily willing to go out with additional men.
Slowly she would have grown used the money, the thrills and the power it gave her over other men and the lifestyle it brought. Before long, Eim, like so many other Thai girls, would have found herself addicted to the promiscuousness of prostitution. It had become a way of life. Once a girl had been a whore she would always be a whore and having sex with a man for money would always be tempting and easy. As a result my lovely Eim Noi is now irreversibly sexually and morally corrupt. She cannot tell the difference between right or wrong anymore. Thank God she can still feel with me.
With regards to sex, she is totally shameless and feels no guilt or remorse for her promiscuous fornication. Her emotions are totally disconnected with whom she mates. She is indifferent to how her body is used and the pleasure she feels. This has left her body impure, unclean. Her soul is soiled by promiscuous pleasure.
I cannot help but love her in spite of my every instinct. By her behavior we both know and accept she is betraying our love. But in her the two extremes are combined in an irresistible combination. I would do anything for her I think.
There are plenty of beautiful young and single women around in Thailand and the Philippines without that kind of baggage. I did not even know what diseases she had as she did not always use protection and there was the risk of my friends and family one day discovering pics/vidoes of her on internet porn sites as most bargirls will allow this for extra cash. The question is would you marry a prostitute? Usually the answer is no but Eim has been in my heart and in my mind, texting me loving me so long I cannot imagine being without her.
Will I be able to marry her and not think about all the men who were there before me? No, but this made me horny anyway. It was not her a pretty smile, her tiny tanned body, and straight red hair and a cute ass in short cut off jeans that made me lose my morals and common sense. Some people may laugh at the idea of marrying a hooker back in home because they're considered filthy sluts but this very idea turned me on.
As long as I come first and her heart is mine, then the thought of her my loving Eim fucking all those men, letting them use and abuse her body, squirting their lewd sperm deep inside her womb leaving it for me to then suck the poignant juice from her little pussy just makes me hard. After all I would be marrying a prostitute. I would need to be able to handle the complicated problems in the future involving my own perception of my wife.
Some people actually maintain that prostitutes make the best wives. They have the experience to give you great sex and they're a lot less likely to cheat on you. They've already had all the sexual variety they could want. It's also true that their experiences have conditioned them not to be jealous. They take sex much more for granted and don't confuse it with love. I should find this repulsive and in a way I did.
It left me sick, jealous, angry and betrayed. But it also made me horny like hell to be cuckolded like this repeatedly. The fact that she was desirable to other men and that other men pay to fuck her makes me proud of her. It means that my girlfriend is beautiful and popular. That's why I liked the idea of lots of men fucking her even though at the same time they are hurting me and her by doing this.
I knew that she had earned her living drinking and fucking with countless other men every night for cash. That she had had been used and abused by them continuously as they worshipped her hot little body and then she willingly let their hard cocks come gratefully in her pussy, filling her promiscuous loins with their dirty spunk. This makes me sick but it also turns me on and it only makes me want to fuck her slutty pussy even more and cum there too adding in my own seed.
I was wondering if when we turned to having a baby and she went off the pill she would still be working as a hooker? Would other men be shagging her like a bitch and filling her unprotected whore pussy at the same time with their vigorous spunk? I fantasized about throwing a party and having three other men there fucking her at the same time and helping to impregnate her.
I kept fantasizing about some other guy making out with my lovely bride to be; discovering his cum slurping in her cunt. In my fantasy, I was always there, tortured but incredibly aroused, watching. I wanted with all my heart to be there in my fantasy and to see her do it and to help her along. For some reason the idea of seeing my girl act like a wanton whore with a strange man made me so hot.
I love my Eim dearly and I did not really want her to screw around on me if I could help it but a voice inside me is telling me that my bargirl girlfriend had been in the business too long now. I had to be ready to accept the risk of not having a monogamous relationship. I guess I have become broadminded enough to let my woman continue working as a prostitute.
I do find the idea of my girlfriend welcoming other guys in her mouth and pussy emotionally painful even though I know she had no emotional attachment to those men. Is sex evil? Of course not! It's the greatest pleasure in life. Is money? Not if you came by it honestly. So why is it wrong for two people to willingly exchange one for the other? I feel her love, so I have to accept and her. After all I have the best of her: all her love and most of the sex.
Eim is still young and desirable and I brought her love and stability. I am one of the few men she has had unprotected sex with in the last seven years but I have no illusions. I was not "saving" her from a life as a bar girls. After all she was not really "exploited" and her life was quite good. I would have to realize that even if I did love certain of her qualities I would probably never be able to remould the girl into my image of a perfect girlfriend or wife. I love Eim so much and I know that she loves me back with the same intensity so I decided that I would take my chances anyway.
I am so worried being far away from her. She was mugged the other day. How can she accept a life of violence and danger and the memories of countless cocks thrusting into her mouth, her pussy, her ass? I was working and living far away and never there to take care of her needs, neither financial nor sexual.
She is very young and passionate and she needs sex and money often. I knew my horny young Thai girlfriend is satisfying her urges with other men. The sad fact is that while I am in the UK missing her, she is working at a beer bar in Patpong seducing other men, getting them to buy her beers and then touching their cock and asking them to take her home to their hotel and fuck her pussy all night long for £40.
My lovely dirty girlfriend fucked a Thai man the other day while I was in UK. He gave her a good fucking. I phoned and this Thai man answered her phone. I was shocked and angry. She was frantic, apologizing for "doing me wrong". Maybe that was to pay off her debts that time… The fact is my girl scores maybe five times a week, so that means she is fucking twenty five strangers each month.
Her little pussy is taking in a lot of other cock in it that isn't mine. I'm sure she comes many times with them. In spite of this all, I'm still madly in love with her. I am both happy and very sad her pussy is getting a good fucking over there in Thailand. This situation is certainly what I wished for and the worst punishment from God. My desire for my wife has fallen and I am constantly feeling sick about the situation over there with my girl friend in Thailand
Call to Action to any real men out there…
In her absence I try and enjoy the thought of knowing that my petite Thai street girl hoe is fucking other men and finding their cocks so hard with desire for her tiny tight Thai pussy. I like the idea of my hot girlfriend sucking and screwing other cocks for money. This is why I have not sent her money. Instead I encourage her to work hard at the bar and go with other men and fuck them for cash. I know that as I write this and every week several men are fucking her and this makes me hard and horny.
I have this obsessive obscene desire: I want her to continue to lead her life of promiscuousness and sin, welcoming strange men between her thighs and letting them abuse her body and filling her cute little Thai pussy with their large cocks. I want them to ejaculate inside her womb and maybe impregnate her young tiny sexy body with their sperm.
I want her to continue moaning and cumming hard with pleasure on their cocks for as long as she possibly can. I want her to experience as many partners and cocks as she can while I am not around. After all, she cannot escape her lewd life of evil whoring or erase the sordid stain on her body and soul brought about by her salacious behavior so she might as well take advantage of it.
Instead of stopping her I fantasize about other guys fucking her and filming it then sending it to me.
Would you like to fuck my little Eim's Thai pussy? Do you want to visit her in Bangkok, track her down to her beer bar then fuck her hard for me? If you do I really would like a souvenir of her wicked evil whoring behavior. I want to watch and share in the enjoyment of her climaxing on your cock. I'm not sure if I could stomach for it but I know that I would I would like to receive photos and videos of my petite slutty girl enjoying a stud boning her.
Part 2: Thai Bride-to-be
I met my Thai girlfriend Eim in a Bangkok where she was working as a bargirl and part-time hooker. Eim young, very hot and sexually desirable: She is a twenty six year old beauty, petite five foot tall, gorgeous brown skinned with a lovely sexy body and long flowing black hair. She has a small thin girlish body with small pointed breasts and a tight hot ass. Eim likes to dress in those tight sexy Thai clothes that make her look so sluttish and so sexy. I think she could make a dead man cum.
Those Thai girls are built for sex. They are all such sexy women, always happy to welcome your cock in their pussy. Eim loved having white guys fuck her, I knew that. Nevertheless we fell madly in love and made plans for a future together but we both understood that it would be necessary for her to continue to work as a sex worker in Bangkok when I was not with her. I knew that there was no choice but to let her continue to fuck anyone she wished as long as in her heart she was not involved with someone she was fucking behind my back without my knowledge or consent.
Like most those Thai beauties Eim really enjoyed her work in the bar and she was quite addicted to her lifestyle. She liked meeting other men, hanging out with the other whores, the promiscuous and regular sex with varied partners and the drinking and easy money. I could not ask her to give it up while I was away. Eim really seemed to enjoy sex and she wanted and needed it all the time.
I loved her deeply so I would just have to accept her for what she was and try and understand that and she needed to be getting hot cock while I was not around. I imagined her fucking other men it gave me a real hard on as knowing that she was fucking all those men and that they were coming in her sweet tight small pussy.
Instead of getting me angry this made me horny. I mean she was so fucking hot and seeing how those guys looked at her I knew why they all just loved to bone her. I felt kind of proud that she was so young and desirable and that she was mine. The fact that other men lusted for her body irritated me a bit but it did not make me jealous as I knew that she loved only me.
Naturally I was jealous of her fucking other men and staying out until early morning. But then this was compensated by the thrill of tasting the sperm on her lips and the stale latex of condoms on her pussy.
I missed her like crazy even though we phoned each other every day. I was upset by how she earned her living but night after night I would fantasies about her fucking big well-hung males who would fuck her hard and make her cum like a slut. I could not stop thinking about it and I had a morbid fascination to see my girlfriend fucked by another man but to share in her thrills and experiences.
A month before our planned wedding, Eim he told me over the phone about how she had met this Thai named Cho. That he was so handsome and so well hung. She told me that she was lonely and asked if it would be okay with me not only to have sex with him, but a relationship. She told me that she did not want to hurt me but that she needed someone there too. She teased me by saying it was good she was so honest and faithful and that she would never cheat on me but that she thought he was sexy.
I gasped. My cock felt as if it was going. The idea of my sexy girlfriend having a lover made me so hard. I asked her with mixed emotions of shock, arousal and confusion:
"If that would please you." I could not believe that I had just said that and agreed to her fucking another man. I told her that it was not cheating if she told me.
"Is he a good lover at least?"
Her breathing was heavy and I suspected that she had fucked him already and that she was rubbing her moist pussy as she thought of him.
"He is so big and virile. My pussy is so wet and red. He really turns me on…" She added.
The idea of my hot young girlfriend having sex with this other man excited me intensely and made me jealous. I knew that even if I wanted to, I could not stop her. After all she had already been fucking her large cocked bull. I was worried that now as she got a taste for it she may hold it against me or not love me as much. Instead I decided to get on a plane to Bangkok and fly over and see her. When I told her I was coming she became very excited and we made all the arrangements together.
When I saw her standing there waiting to meet me at the airport my heart missed a beat. Eim had squeezed into a very short, tight revealing, and black Lycra skirt. It reached maybe an inch or two below crotch and barely covered her pussy. Her black halter top showed her belly button. Together with her black heels and strong make-up she looked like a little Asian slut that wanted to get fucked. I took her into my arms, an instant hard-on in my pants and squeezed her tightly as we kissed passionately. Her lips tasted of sperm and I could smell another man on her. I knew that she had just been fucked a stranger.
As we got into the taxi, Eim announced that she wanted to go to the bar for a little while and that I could check in to my room later. Of course I was quite disappointed as I was so horny and could not wait to fuck my girlfriend again. I managed a protest asking her why she was working today but she responded that she was off tonight as I was here.
She led me into the bar filled with sexy Thai girls and a Thai man came up us and said: "Hi. I'm Cho. I have reserved a table for us."
I was disappointed but said nothing. Eim seemed excited and sat down between us and ordered beers for everyone as the music pumped out from the speakers. I felt slightly awkward but Eim did not seem to notice. She slid over to sit between the two of us and drank and laughed at what Cho had to say. I suddenly jumped as I felt her hard on my cock under the table. I saw Cho smile too and I guessed she had grabbed him too. As we talked and drank Eim was slowly rubbing our cocks through our pants. I put my hand on her leg and touched her thigh and was surprised to find Cho's hand already there, his fingers up her skirt and in her panties.
After a moment she smiled and closed her eyes, leaning back, her head on my shoulder. As I rubbed her clit I found Cho's finger already deeply buried inside her moist pussy. She bit her lip and I kissed her. She smiled and suggested we dance together. We danced for a while with Eim between us, one drink in each hand with Cho in front and me behind her.
She put her arms around Cho and ground her pelvis against his loins while I took her by the waist and rubbed against her behind as if I was fucking her from behind. Eim's barely covered panties were visible to the front. I was probing her butt with my finger, trying to finger fuck her ass. I wanted to put my dick there. She turned her head towards me, her eyes shining with mischief and arousal and boldly declared: "I want him to fuck me now honey. I come to your hotel room later. Okay."
Misinterpreting my expression she added: "Don't worry. He fuck me good for you."
"Well I-I…" I began to protest. She ground her ass against my hard erection and kissed me passionately. I moaned and gave in. I wanted to fuck her hard but I knew that Cho would be stretching my girlfriend's pussy first tonight with his big cock.
I nodded and swallowed hard knowing that she would shortly be spreading her small brown legs wide for Cho. When she came into the hotel room several hours later I saw that her face was flushed with arousal and her breathing heavy. She seemed absolutely radiant and sexy. I asked her what had happened. Instead of answering right away she gave me a quick hug and she began to wiggle out of her clothes. I could see the marks of sex on her body and breast. She stripped down to her lacy black panties and slipped into the bed beside me.
"Thank you so much my darling for being so understanding with me. I love you so much. I've been very bad girl…" She said with a wry little smile.
She got into bed beside me and I hugged her. She shivered and kissed me hungrily. I could feel her body so horny beside me ready for sex. She seemed supercharged. I pressed her for details and she told me that she had gone to Cho's house and after a few drinks they had gone up to his bedroom.
She told me that Cho's cock was much longer and thicker than mine but she was so wet with lust that he had easily fit into her tight Asian pussy. After she had sucked it hungrily he had fucked her doggy until they both came. As she was telling me this and holding my hard erection I knew that she was so happy and horny and that she couldn't wait for me to fuck her.
She looked at me deep in the eyes and said with a mischievous little smile:
"I have brought you home a little present I retrieved from today's work and Cho…"
I looked at her oddly as she reached into her small clutch and retrieved a small plastic back. She carefully unwrapped it. To my disbelief she produced five used condoms filled with cum which she handled with care so nothing would spill out. My heart missed and beat and I swallowed hard trying to control my mixed reactions.
"What the…" I stuttered.
"Five men have fucked me today and filled these condoms with their loving homage for your sweet lady. I want you to use them to worship my pussy…" She said seriously.
My cock stirred and I felt weak with morbid curiosity, disgust and desire as she lay back naked on the bed. She carefully handed me the four condoms. All four were quite full and the outside was damp from my girlfriend's own salacious sex juices of arousal.
"Take the first one and pour it over my thighs." She instructed looking at me with a sly grin.
I looked at her in disbelief but took the condoms and trembling, swallowed hard and obeyed. As I squeezed the gooey mixture over her thighs I was breathing hard and my cock was stiff. Her body seemed to relax as I gave her this unique obscene massage.
She smiled at me mischievously and gave me further instructing: "Take the second condom and empty it over my pussy."
I obeyed, rubbing it into the soft folds of her swollen red pussy lips. Her breathing was shorter and my cock was stirring like crazy. This was instant creampie without the lover around.
"That's right; rub it in between my thighs…" She moaned.
She closed her eyes and groaned with pleasure.
"Now add the third there…yes that's right, Tilak Ja. Rub it deep inside… Lubricate my pussy with their sperm…"
I was very aroused now and my fingers worked all over her crack and in and out of her bare pussy. She bit her lips.
"Finally I want you to take a four," She said. "Yes the well filled one. Rub the juices into your cock as homage and submission to these virile men."
I obeyed, my hand trembling with excitement, wetting my cock with the sticky mixture. I managed to squeeze out a huge amount of spunk. The smell of latex and sex filled the room. I could not have been hornier.
"Now turn it inside out," she directed, "and unroll the condom inside out onto your cock… Yes, like that. I want you to fuck my pussy with the used condom dripping with cum. I don't want to feel your spunk inside me today, darling. Today is our special day. I want you to help work all the other spunk inside my slutty pussy instead…"
I groaned and swallowed hard as I obeyed. A lot of cum still remained inside the condom and it felt squishy and damp as I rolled it onto my hard cock. I felt the cum inside the condom all over my cock. It felt disgusting yet somehow dirty and wonderful. I began to stroke my cock. I felt the cum all over it. I was aroused beyond belief.
She parted her soaking wet pussy and instructed me to climb between her legs. I pushed my cock deep inside her wonderfully well fucked pussy. She moaned and thrust hard at me, excited beyond belief and enjoying the feeling of my big cock filling her Asian pussy and all that spunk there. I licked her brown breasts and she sighed and whispered for me to continue to fuck her. As I fucked her I mixed and pushed in all the other men's cum deep into her little Thai womb.
As we approached the climax, she suddenly paused, reached out for the last remaining used condom on the bedside table nearby and with a sluttish wicked grin dripped the cum with her finger into her mouth then licked her lips and spread it all over with her tongue. As I groaned and came inside her pussy, she pulled me down on top of her and kissed me hard, sending her little aggressive tongue darting inside my mouth and pushing the cum through my parted lips and into my open mouth, sharing it with me.
I came hard inside her pussy inside the caged condom like any other john, keeping her pussy full of her paying lovers' spunk. She kept my mouth shut pasted against hers, staring me in the eyes until I swallowed instinctively. She smiled at me and kissed me gently as I groaned desperately.
We both decided that she should continue fucking Cho while I was in Bangkok and having sex with me afterwards. I did not mind this as I knew about her affair and I was okay with this as long as she did not fuck him in front of me. I guess we had reached a general understanding that it was going to be just sex for my fiancée and that this would lead to hotter penetrative sex with her after for me.
The next day my Eim informed me that she had agreed to meet her lover again that evening in the bar alone. I was irritated that she had not consulted with me first but as the meeting was a done deal I could not ask her to cancel now and after all I wanted her to be happy after all. When I said okay she gave me a grateful kiss and disappeared into the bedroom to prepare and put on her make-up and clothes for her date.
Although I had had my doubts it was very obvious to me that I had enjoyed it as much as she had and that I loved being cuckolded so I did not complain. I had this crazy idea that my future wife would be fully submissive to me while fucking other men at my discretion. How wrong could I be! Eim really seemed to appreciate having two men adoring her body and loving her at the same time.
She liked the idea that she could still have her cake and eat it. She told me that she wanted to marry me but that she also needed to continue to see Cho and enjoy full sexual freedom to chose other partners and for pleasure and for her sex work. After all cuckolding is all about letting her get what she wanted, giving her sexual freedom and empowerment.
That evening when she returned glowing and radiant from her long fucking, Eim demanded oral sex before I fucked her. She insisted that I not only taste her lovely cunt but eat Cho's sperm as well. When I came out of the bathroom I found my lovely petite wife lying with her legs up in the air and her pussy open and dripping from the juices from her lovers' spunk and her own promiscuous lust. I admired how nice her swollen pussy was for a moment then spread her legs wide
I lowered my head between her legs, breathed in the strong musk aroma before hesitatingly beginning to lick at the own cum at the edge of her pussy lips. She gasped with pleasure. I slid my finger inside her gooey gaping pussy and she groaned. I could feel her body tremble with desire. I started licking around her wet pussy as I thrust my forefinger deep inside her juicy hole.
I licked all around her pussy at the warm musky juices. She moaned and bucked her hips. I tongue fucked her hot little pussy making her squeal and squirm on my tongue. Her thighs closed and clasped my head, pulling my mouth hard up against her slutty pussy.
I sucked at her wildly, my tongue rubbing her hard clit and moving around the entrance of her vagina, lapping it all up as I jerked my cock. My head dove deep between her legs as I sucked at her wet pussy. She was holding my head and pulling me into her. It was not long before I felt my goddess shudder and come hard, clamping her legs around my head and crying out like a wounded animal.
I slurped it all up into my mouth hungrily, swallowing it obediently as she told me to do. After licking her sweet pussy, she demanded to be fucked. While making love we were both fantasizing about her with other men as she liked fucking handsome well hung strangers. I fucked her hard for about fifteen minutes until we both experienced a massive orgasm and I shot my load deep in her unchaste sleeve.
Between her Thai boyfriend Cho and fucking men that she picked up at the bar she did not seem to have much time to spend with me in the run up to our wedding and most of that she was either sleeping or eating. It was very frustrating but I could not break the vicious circle. She was already addicted to her bargirl whoring lifestyle and unable or unwilling to stop.
Even though I might be a good submissive and loving boyfriend she could compare to other alternative bulls better endowed and able to meet her sexual that she picked up in the bar and to Cho and I might lose her. The more I gave in and tried to keep her the more she was in control of me. I knew that cuckoldry is a one way street. The price of happiness was more and more male submission to her dominance over me so I was submissiveness to her stronger sexuality and let her satisfy her need for better endowed and much more sexually adept virile big well hung bulls.
December 2010
On the night before our wedding Eim started to dress sexy for work. Instead of letting her go as usual I asked her if I could come along with her to the bar too. Eim was reluctant saying that she would be drinking a lot with other men and trying to get a man to fuck her. I told that it was okay and reassured her that I would not be jealous or interfere with her work so she agreed. That in fact I only wished to lick her clean after her johns had fucked her.
The bar was already full and Eim settled her sights on Nat, a younger black boy with a large cock. We had a quiet drink as he sat opposite, he couldn't take his eyes off Eim who was dressed in a short skirt and Lycra top and stockings. I guess she was not used to doing this in front of me and with my permission. She finally danced with him, grinding her hips against him and letting his hands run over her body and ass and up her skirt to her crotch. She responded, laughing and kissing him, encouraging him to become bolder.
I sat on the chair and watched as Nat raised her skirt up around her waist, fondled her then stripped down taking out an impressive black cock. I saw Eim lick her lips with desire. She timidly wrapped her fingers around his shaft, glanced at me questioningly then began to stroke it, wanking him slowly while they kissed mouth to mouth. Her tongue was in his mouth. I watched them kiss, my cock hard in my pants. Kneeling down, Eim took the head of his black cock between her lips and began licking his shaft from top to bottom. As she gave him head her other hand was rubbing her pussy as she pleasured herself sucking at the erection in her mouth.
Nat groaned and grabbed her head as she came hard in her throat. She swallowed convulsively as she received his cum in her mouth. She moved back and received another load of cum over her face. I saw some of cum from her mouth run out of the corners of her mouth and drip down her chin. Keeping her lips closed, she smiled at me mischievously and reached up to kiss me on the mouth. She kissed me hard on the mouth, forcing the cum into my mouth with her tongue and her breath, holding me back and forcing me to swallow the musk salty mixture.
Eim whispered in my ear that Nat wanted to screw her and that she was going to do it with him tonight whether I was ready for it or not so I might as well enjoy it with her. I could always stroke my cock while I watched. I was dumbstruck and shocked as Nat pulled my future wife against him, lifter up her short skirt to expose her bare arse and squeezed it. My cock jerked with jealousy and arousal. It was going to be an interesting night.
When we got to the hotel room Eim informed me that Nat was going to fuck her right in front of me. Throwing herself backwards on the bed, her legs high in the air and wide apart, she parted her pussy lips with both hands. My wife-to-be begged him to fuck her. I could see Eim's nipples hard, erect and expectant. Nat glanced at me hesitantly so Eim said impatiently:
"Never mind him. He's just my cuckold man. He want me fuck lots of men, get many "farang" cocks in my pussy for money. He like see your big strong cock fuck me… Come now: Put that big cock in my wet pussy."
He climbed on top of her and placed to head of his oversized cock at the entrance of my girlfriend's wet pussy. Anxious, I began to protest as I realised this complete stranger was about to fuck her bareback. She glared at me, her eyes silencing me. He slowly pushed his unprotected black foot long rod a few inches in.
I saw her wince with pain and ecstasy. She had never felt so stretched filled before.
He grinned. She had her hands on his butt she slowly pulled inside all ten inches. I saw him bury the entire length into my future wife's tight cunt. Her pussy lips opened like a flower. I could not comprehend that a so big cock could enter her tight wife to be's pussy without ripping her in two.
Eim groaned and wrapped her small legs around his muscular waist as their mouths met as in a long French kiss while he slowly fucked on the bed, thrusting the full length of his thick long cock between her open and welcoming red vaginal lips. He pulled her knees up to his shoulder, and started fucking her hard and quickly. She groaned and clung onto him as he laboured at her like a wild horny bull.
My cock stood up proud and erect as I watched. She was fucking a huge black cock without protection. I was thinking that if he came inside her she might get pregnant with all that sperm. She started moaning loudly telling him to fuck her harder. His huge balls were slapping against her pussy and it wasn't long before he shot a huge load inside her. I could not see anything but I knew that his load was deep inside her belly.
Aroused beyond belief, she turned him over in pure sexual frenzy and climbed astride of him. His unprotected penis glistened with her juices. Slowly and firmly she rubbed her clit and pussy against his spent cock until she had managed to resuscitate the cock and return it to a state of sexual arousal. I had never seen her looking as hot as I did that night. She was rubbing his hardening cock up against her crack. I could see her nipples getting hard. She was getting wetter and horny and I knew she was going to give him a good fucking.
Before I knew it she dropped down onto that huge cock and shoved his dick deep into her pussy with a loud moan. Eim gave a warm groan as her well lubricated pussy took in this huge cock for a second time. He held her hips as his cock hammered in and out of her. She moaned softly as she ground her hips against his crotch. I knew my sweet little Thai fiancée gets her hardest orgasms riding a cock up and down and rolling her hips.
She started to gather speed sliding her pussy up and down on Nat's dick. She rolled her hips as she filled her brown pussy with his American cock. I watched in the dark as she violated her pussy all over the guy's cock. She was giving him the fucking of her life. She grabbed my face and squeezed it hard as I watched her take the man into her little Thai pussy with every thrust. He was plunging deeper and deeper into her tight, wet pussy each time she travelled up and down his pole.
I watched as he pumped his cock upwards in my thrusting beautiful wife harder and harder. Her vaginal muscles and her sexy body clamped and tighten repeatedly around his hard and powerful manhood. Suddenly I felt her reach out and feel my crotch and grab my hard erection. She began rubbing my cock as she rode her lover hard. Her eyes were shut and her mouth open as her breathing became heavier as she rode faster and faster, grinding her hips on his cock.
Without warning he moaned and his strong seed pumped into her stretched thin pink and brown unprotected cunt.
'Fill me up! Cum inside me and fill your little whore with your wonderful cum." As she spoke she tilted her pelvis up into him.
She closed her eyes groaned bit her lips and shook. Her moaning increased as she climaxed with more intensity than I have ever seen from her before as he pumped out his cum inside her pussy.
I have to admit that I loved seeing that black man's cum pouring out of my Asian bride's stretched cunt. I came too watching my sexy young hot future wife enjoy herself and lose all dignity and control.
As she climbed off her she said:
"Come here and lick it all clean, daddy. I want you to use that mouth of yours on my pussy."
She told me to feel her pussy as a huge glob of his semen had just run out of her.
I cuddled her and asked if she had enjoyed herself. She replied that she had enjoyed it very much. She kissed me on the mouth so that I could taste the cum then taking my head in her hand and directing it between her legs she made me lick it all up after them. She instinctively knew I loved the humiliation of eating her lovers cum from her freshly fucked Thai pussy. She held my head down on her pussy while I licked her until she came in another quick climax. I wanted a second round but she told me that I had had enough. I stood up and wiped myself clean.
Nat stayed overnight and fucked her twice during the night. In the morning Eim put on her usual thick sexy make up which I felt was totally inappropriate and too slutty for a wedding day. She looked so stunning in her wedding dress. We kissed passionately. After she had put on her white wedding gown without asking for my opinion or permission she told me to leave and go ahead to the church and that she would join later. She informed me that she was not done fucking Nat and that she wanted to feel his cock in her wedding gown.
I swallowed hard and said okay. I was so horny my cock nearly burst out of my pants. Nat smirked, lifted the hem long white wedding skirt up and parted her lace white panties. Extracting his large long black cock he held apart her panties and inserted it into her wet pussy. Nat fucked her silly unprotected while I waited patiently in the other room.
When Eim reappeared she had a mischievous slutty look on her face. Lifting up the hem of her wedding dress I could see thick white sperm marks on her panties. Nat had shot a massive load of cum into her pussy. Even though she had tried to wipe it away there was still a lot left inside her, she admitted.
"Look," she said pointing to her wet panties. "It's still inside me."
I went to pull down her panties but she stopped me saying that she wanted to keep all their love juices deep inside her and that I should leave the panties on her. This gave me huge turn on. My lovely wife walked down the aisle with another man's cum between her legs. Her ovaries were filled with the salty spunk from Nat's cock.
As her vagina was not protected from getting pregnant I found out a few days later that she had been knocked up by her black stud. I had become slavishly addicted to my little Asian hot wife so I did not object. Even though I did not get to fuck my young wife Eim much anymore she allowed me to stroke her legs or suck the cum from her pussy occasionally as she had taken to going bareback whenever she took a liking for bull who wanted to use her for a 'girlfriend' experience.
Category: Sexy Stories