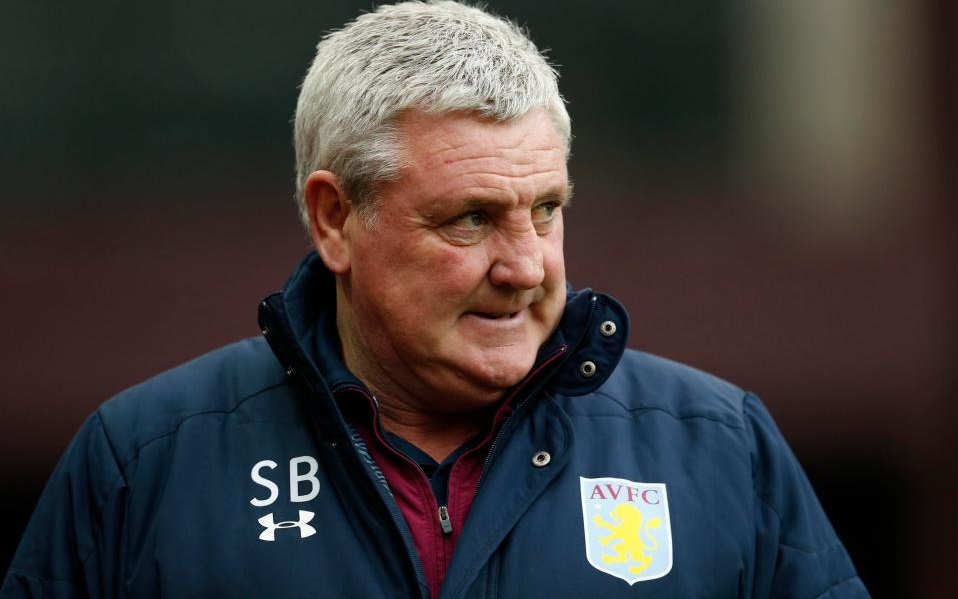 Football News: Manager Steve Bruce has said he was satisfied to see us take victory over Colchester United and book our place in the second round of this year's League Cup.
Heading to the Colchester Community Stadium for last night's action, Villa took the two one victory courtesy of goals from Scott Hogan and a Kent own goal who levelled matters up by scoring their consolation.
It was an extremely impressive performance by Villa but I qualify that by saying 'based on our standards' over the last few years, a hell of a lot of positives but we had a terrific performance by Jed Steer which included a penalty save to thank for the game not being tighter given Colchester's efforts.
In fairness though, we did probably waste more good chances in that 90 minutes than we created throughout 2016/17 when you take Jonathan Kodjia out of the equasion, so for me it was full of positives.
We even dominated possession!
Speaking to the Official Site as he met with the media post game to give his thoughts, Bruce certainly wasn't getting carried away with the potential that performance showed for us because whilst the potential was there, we were facing Colchester – which with no disrespect to them owing to the fact a Cup tie is always a leveller – you would expect and demand better from us.
I've come to expect far less which is why I'm delighted!!!!!
'We`re through and that`s all it`s about in a cup tie. We took a big gamble on some lads who haven`t played in a long while. I thought it was an ideal opportunity for them. Then there was the sprinkling of youngsters. Overall I am delighted we got through.'
With incredible rain throughout most of the country yesterday and the fact it certainly didn't ease last night, Bruce joked.
'I can`t remember a game being played in conditions like that. I don`t know how we`re going to get home – maybe a ferry! I haven`t seen continuous rain like that for a while. It was quite incredible.'
For Bruce though, the conditions were a positive to our performance because we knocked the ball around well, created good chances with some pretty decent football at points and defensively bodies went on the line – and I'll pick out Samba for an outstanding showing but the defence were on the ball and kept things simple which was nice to see.
'We got stuck in and rolled our sleeves up. I was delighted we got through and that`s all that matters in a cup tie.'
He was also pleased to see Hogan find the scoresheet.
'That`s the reason I have put him in tonight – to see him score a goal. Strikers are all about confidence. He could have had two or three on another night. But, yes, that was a positive.'
With a number of youngsters on display, Callum O'Hare came in for praise, but equally there were good showings from the others as well.
'There`s nothing like a bit of youth out there on the pitch. We will have to rely on it. We are not in the position to be able to go out and spend millions and millions and millions again. It`s important that the lifeblood of the club is in good hands. There were a few involved today. Callum got the nod to start. He played very, very well. I was delighted for him.'
Jed Steer obviously came in for praise and for many fans who haven't overly seen him in action they may now understand why his compensation fee was so high.
'He ruptured his achilles in my first week. It`s been a long road back. He has worked tirelessly – hour after hour to get himself back. I am delighted he has shown what a good goalkeeper he is.'
Ending the game with a far more youthful feel, Bruce appreciated the crowd's reaction to that and proved he hasn't lost sight of building for the future whilst we prioritise our aims this season.
'I think why the fans stood and applauded them because it wasn`t a great performance, don`t get me wrong. They have applauded because they are the lifeblood here. I am pleased with what I am seeing from them.'
As for Cardiff, quickly next up at the weekend, Bruce described it as another tough clash. What he probably wanted to say was that Neil Warnock will attempt to kick us off the park like they did last season but at least the old goat can't bitch about Jack Grealish this time round…I guess he'll have to be inventive when he's hopefully looking for excuses this time.
'It will be tough there. We know that. We have to show the same resilience as what we have shown tonight. We want to go and get another result.'
Category: Football