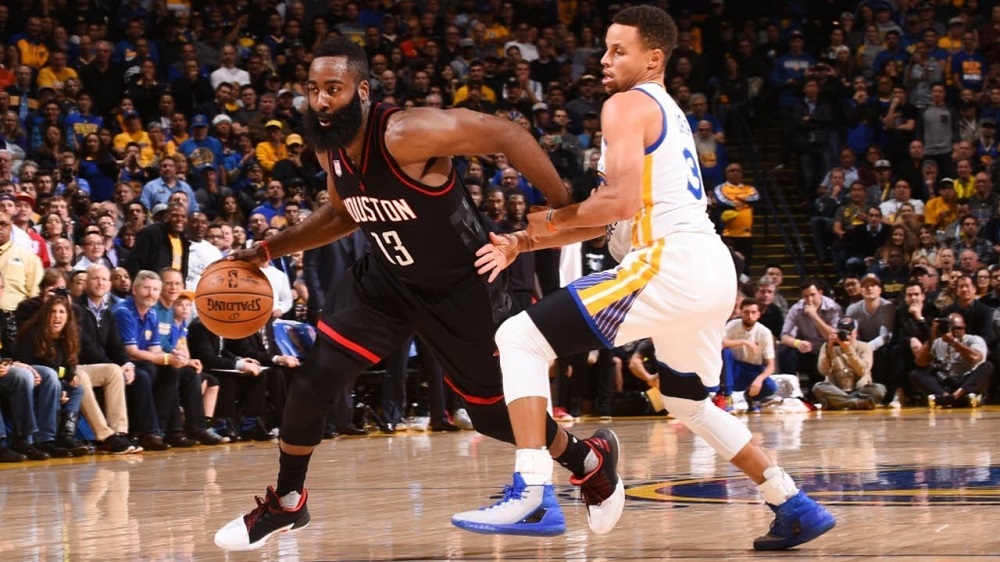 The NBA Playoffs continue Wednesday night when the Golden State Warriors — after stealing game 1 of their best-of-seven series on the road — match up with the Houston Rockets for game 2. Can the Rockets bounce back at home to tie the series at 1 game apiece?
Let's take a closer look at where the value's at in this match.
NBA Odds
Spread
Houston Rockets -1.5: 1.94
Golden State Warriors +1.5: 1.95
Total
OVER 224.5: 1.94
UNDER 224.5: 1.95
What to Watch For
Dynamic Duo: Kevin Durant and Klay Thompson combined for 65 points in game 1.
Those two are projected to finish game 2 with a combined 41 points. 
Betting on the Total: Odds for the OVER — at 1.94 — indicate there's about a 51.5 the total combined score goes above 224.5. The total goes above that number in about 55 percent of AccuScore sims.
The average score after 10,000 simulations is 114-113, in favor of the road team.
Rockets' Shooting Woes: Other than James Harden, Clint Capela was the only Rocket to connect on 50 percent of his attempts. Of the nine Golden State players that were in the rotation in game 1, eight shot better than 50 percent from the field.
The Warriors are projected to shoot 47 percent from the field in game 2, compared to 44 percent for the Rockets. 
Projected Leaders
Steph Curry — and not Kevin Durant — is projected to lead Golden State in game 2 with 25 points, 7 assists, 6 rebounds, 2 steals and four turnovers. Durant averages about 23 points in the sims for game 2.
After a 41-point performance in game 1, James Harden is projected to finish game 2 with 31 points, 10 assists, 7 rebounds and five turnovers. Chris Paul averages 17 points and 8 assists in the game 2 sims.
Analyst's Pick
Warriors cover on the road, again. 
This is a three-star (out of four) AccuScore hot trend pick. Odds — at 1.94 — indicates there's a 51.5 the Warriors cover the 1.5-point spread in game 2. They cover that in approximately 53 percent of sims, suggesting some added value on the pick.
Category: Basketball