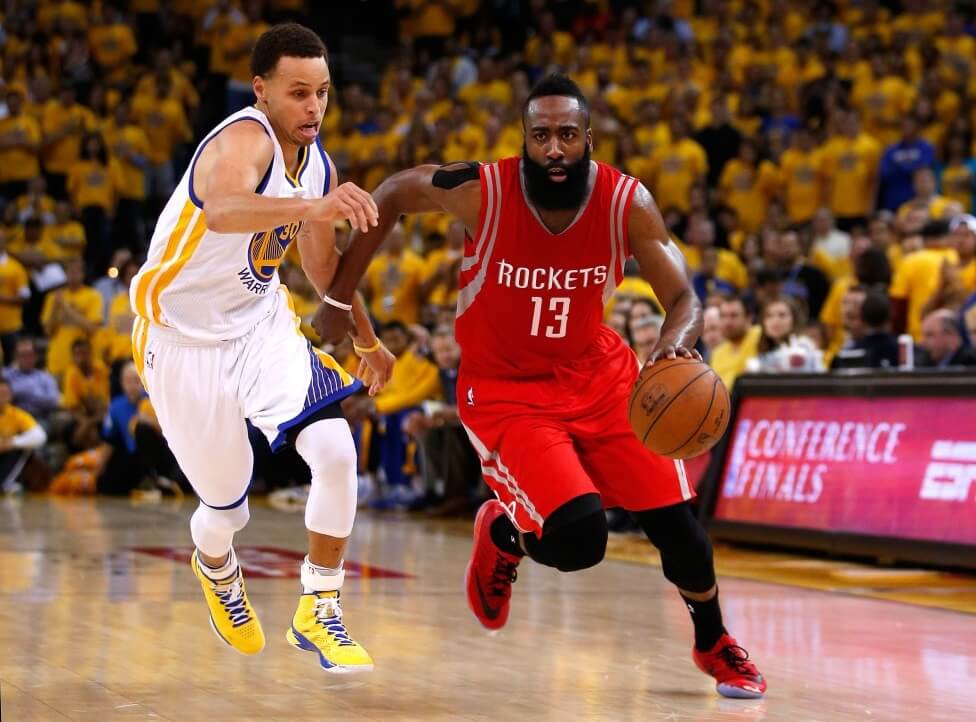 Two Game 7s? There's a reason the NBA Playoffs have this sort of popularity as the fans are getting exactly what anyone could hope for at this level of competition. Multiple Game 7s to decide who heads to the NBA Finals. After a comeback performance in the second half of Game 6, the Golden State Warriors head to Houston for Game 7. Reports are suggesting Chris Paul will not return from injury, and AccuScore sims kept him out of the matchup.
Let's take a closer look at where the value's at in this match.
NBA Odds
Spread
Houston Rockets +5.5: 2.01
Golden State Warriors -5.5: 1.88
Total
OVER 209.5: 2.02
UNDER 209.5: 1.87
What to Watch For
Splash Bros: Klay Thompson seems to love Game 6s, as he and Stephen Curry combined for 64 points in Golden State's 115-86 victory. Thompson had 35 and Curry had 29. Thompson shot 9-of-14 from beyond the arc.
Third Quarter Magic: The Warriors have been the best third-quarter team all season, and Game 6 reminded us that no lead at halftime is safe against this team. After trailing 61-51 at the break, Golden State started the second half on an 11-0 run.
The average score after 10,000 simulations is 108-106, in favor of the home team. 
Houston's Probability to Win
ESPN Forecast: 38%
Fans: 43%
BPI: 65%
538: 65%
AccuScore: 57%
Projected Leaders
Steph Curry is projected to finish Game 7 with 26 points, with Kevin Durant right behind him at 24. Klay Thompson averages 17 points in the Game 7 sims.
For the Rockets, James Harden is projected to finish with 31 points and 9 assists, with Eric Gordon adding 14 points.
Analyst's Pick
Houston covers. 
This is a two-star (out of four) AccuScore hot trend pick. Odds — at 2.01 — indicates there's a 49.7 percent chance the Rockets cover a 5.5-point spread. They cover that in approximately 69 percent of AccuScore sims, suggesting quite a bit of added value on the pick.
The Rockets actually win 56-to-57 percent of simulated games, meaning AccuScore and offshore odds are on different sides of the money line.
Category: Basketball