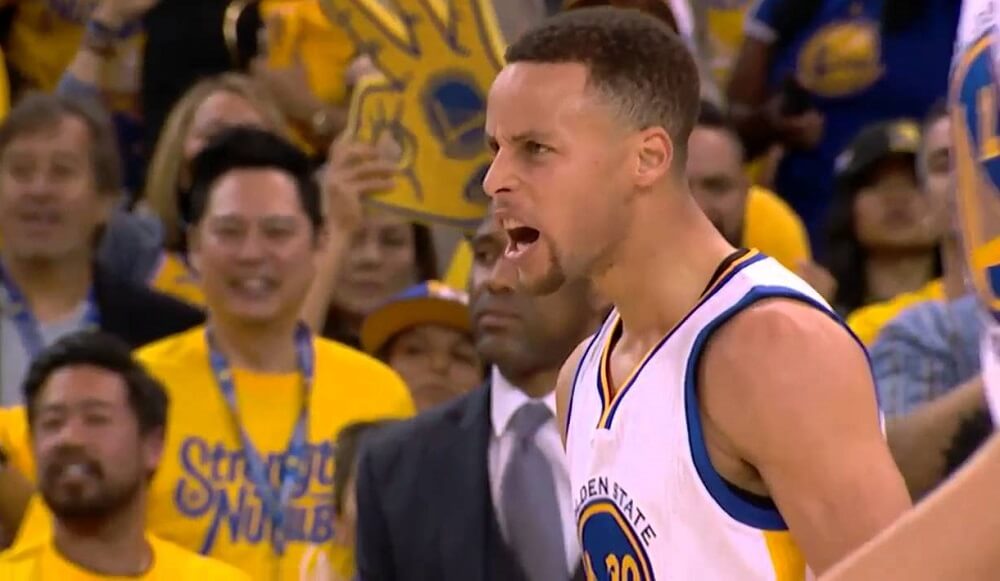 The NBA Playoffs continue Monday night when the Houston Rockets — after finishing with the best record in the NBA — host the Golden State Warriors in game 1 of the Western Conference finals.
Let's take a closer look at where the value's at in this match.
NBA Odds
Spread
Houston Rockets -1.5: 1.94
Golden State Warriors +1.5: 1.94
Total
OVER 224.5: 2.03
UNDER 224.5: 1.86
What to Watch For
Live by the 3: So far the playoffs, the Rockets have outscored their opponents by 13.8 points per game on 3-pointers. According to NBA.com, that's more than twice the next biggest differential; Boston, prior to their Game 1 vs Cleveland, was at +5.5 points per game.
In game 1 AccuScore sims, the Warriors connect on 13-of-33 three-pointers. The Rockets connect on 14-of-38. 
Betting on the Spread: Odds for the Warriors covering — at 1.94 — indicate there's about a 51.5 the Warriors lose by 1.5 points or less. The Warriors cover the 1.5-point spread in about 51 percent of sims.
The average score after 10,000 simulations is 114-113, in favor of the Warriors. 
Important of Depth: The Warriors lead the playoffs in aggregate bench NetRtg (plus-5.1 points per 100 possessions).
Big 5: According to NBA.com stats, the lineup of Steph Curry, Klay Thompson, Andre Iguodala, Kevin Durant and Draymond Green has outscored its opponent by 41 points per 100 possessions in its 54 minutes, the best mark among 17 lineups that have played at least 50 minutes in the playoffs.
Betting Trends
The UNDER is 10-1 in the Rockets' last 11 games vs. Pacific division opponents.
The Warriors are 11-5 against the spread (ATS) in the last 16 games vs the Rockets.
Projected Leaders
Steph Curry and Kevin Durant lead the way for the Warriors in AccuScore sims. Curry is projected to finish with 24 points, 6 assists, 5 rebounds, 1 steal and four turnovers. Kevin Durant is projected to finish with 23 points, 8 rebounds, 5 assists, 2 blocks and four turnovers.
For the Rockets, it's James Harden and Chris Paul. Harden is projected to finish with 31 points, 10 assists, 7 rebounds, 2 steals, and 5 turnovers. Paul is projected to finish with 17 points, 9 assists, 6 rebounds, 2 steals and two turnovers.
Analyst's Pick
The OVER.
This is a three-star (out of four) AccuScore hot trend pick. Odds — at 2.03 — indicates there's just under a 50 percent chance the total combined score goes above 224.5. The total goes OVER that number in approximately 55 percent of AccuScore sims, suggesting some added value on the pick.
Category: Basketball